You probably know all of these companies. You know what they do. You know they are big. But each one has a cool side project or a small aquisition that's oftentimes (unfairly) overlooked. Well, it's time to do some justice.
1. Microsoft/Leafully.com. You know Microsoft as the biggest tech company with a virtual monopoly on PC operating system (though this is changing very quickly). You may also know that Bing has essentially been a failure so far. What you probably don't know is that Bing engineering team (Timothy Edgar and Nathan Jhaveri, to be exact) are behind a free cool little app that let's you track your energy usage and hopefully reduce your energy consumption in a friendly competition manner (literally, since you compare your stats with your friends).
2. Google/Prizes.Org. Google is known not only as a leading search engine, but also as a factory of really cool side projects everybody loves – from GMail to GoogleMaps. So I chose Prizes.Org for two reasons – first it became Google's after acquisition of Slide (all other projects were killed). Second, Prizes.Org succeeds where Google itself has failed – namely Google Answers.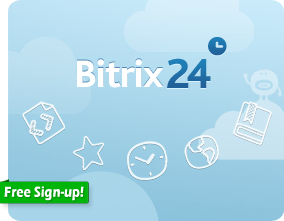 3. Bitrix/Bitrix24.Com. Bitrix is the largest commercial CMS maker in the world (people know about WordPress, Drupal, Joomla and other free CMS, but ask anyone what's the most popular CMS you have to buy and they won't be able to tell you, but now you know). Bitrix24 is a free (to small businesses) social enterprise platform that combines SalesForce (CRM), DropBox (file sharing), Yammer (social workplace), BaseCamp (project management), FaceBook (likes) and a few other tools just to make you wonder 'how can they afford to give this all away for free?'
4. Apple/Chomp.Com. Obviously, Pixar would be an ideal candidate since it's Steve Job's side project and Steve Jobs and Apple are almost the same. But since the Pixar story is so well known, I'll settle for Chomp.Com, Apple's search engine that is designed specifically for app search.
5. YCombinator/HackerNews. YCombinator may not be the biggest venture capital firm, but it's probably the best known 'startup bootcamp' (which reflects Paul Grahm's philosophy – 'they don't need money, they need advice and connections'). HackerNews is the founder's personal project who wanted to recreate the early days of Reddit community and avoid the Eternal September . So far, so good.
[Via - Webiot.com]
PickyDomains.com is world's first risk-free naming service.